2021 Commercialisation Strategy for Marine Energy
Call to Accelerate Commercialization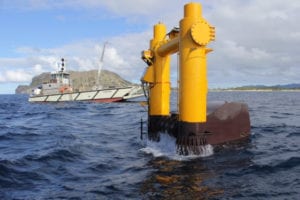 Marine energy technologies are experiencing rapid innovation. Deployment of these technologies at scale will create benefit  by:
• Increasing localized economic development opportunities.
• Creating thousands of high-value jobs.
• Promoting exports in technology manufacturing and related services.
However, without a unified focus on accelerating commercialization, these benefits will be delayed, if recognized at all.
The abundant potential to develop marine energy is stunning. Harnessing waves, tides, currents, and even thermal gradients, could technically produce more than
half of all the nation's electricity needs. Demonstration projects and research over the past decade, supported by the U.S. Department of Energy and U.S. Navy, show that innovative marine energy technologies could be the missing link for meeting our nation's clean energy goals and decarbonising our electricity grid.
What's more, these technologies complement wind and solar technologies. As these variable renewables play an increasing role in the electricity mix, marine energy
resources have the potential to prove particularly valuable to future energy markets.
What's needed now is a commitment—by both the marine energy industry and by  Government—to accelerate commercialization of these technologies
https://www.hydro.org/wp-content/uploads/2021/04/NHA_MEC_Commercialization_Strategy_Marine_Energy.pdf