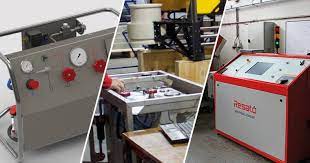 EHL Group and Resato have released a handbook to share our knowledge about plug-and-play testing in the oil and gas industry and highlight its benefits. Testing is essential in the oil and gas industry. However, this can take up a lot of time and resources. In our handbook, we share how you can ensure a safe, reliable and cost-efficient testing process.
In it, we discuss:
What advantages plug-and-play testing has over traditional testing?
What the testing process consists of
What you should take into account when testing
What steps you can take towards plug-and-play testing
How to make the most of your testing facility
We also share various tips in the handbook as the result of the knowledge and experience we've gained in over 25 years in the high-pressure industry.
Pressure testing is essential in the oil and gas industry. However, testing also consumes a lot of time and resources. Precious time you could be spending on running your business. Additionally, you want to ensure tests are performed in the safest way possible. Working with high-pressure in this industry creates risks. And these risks may have serious consequences for your operators, equipment and your facility. By applying plug-and-play pressure testing you are
taking steps to increase safety, reliability and cost efficiency.
Contact EHL for more information https://www.ehlsolutions.com/contact/