EHL Group

can partner with you to design and supply your AirSep ASV Oxygen Series Tonnage Plants AirSep Corporation (USA) offers custom-engineered Vacuum Pressure Swing Adsorption (VPSA) Oxygen Systems.
They are designed to the specific requirements of installation, with capacities ranging from 2,000 SCFH (52 Nm³/hr) to 120,000 SCFH (3,155 Nm³/hr). AirSep's high-efficiency, rugged 2-bed VPSA oxygen process design offers extremely low energy consumption, on stream efficiency of 99%, easy operation, and long-term equipment life of 20 years or more.
AirSep VPSA Oxygen Systems are currently in use all over the world in remote, harsh, and/or demanding environments.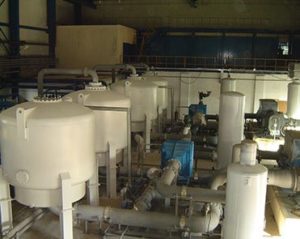 AirSep VPSA Oxygen Applications & Industries Served
Ozone Generation

Water/Waste-Water Treatment

Furnace Enrichment

Steel Mills

Gold Leaching

Uranium Recovery

Oxygen Bleaching and Delignification for Pulp and Paper Mills

Oxygen Fuel Burners

Glass Industry
Key advantages:
Remote monitoring of system operation by AirSep engineers
Critical process parameters monitored and recorded every 250 milliseconds
Automatic turndown capability from 100% to 0% flow capacity
Designed in accordance with local standards
Automatic and unattended operation
On-site start-up assistance by AirSep trained technicians anywhere in the world
Contact Michael Byrne from EHL for all enquiries and a copy of 

our full VPSA Oxygen brochure 
W: www.ehlsolutions.com
EHL for all your OXYGEN and NITROGEN gas system solutions