Pressure Testing Solutions
Portable & Static
Oil & Gas / Industrial / Hose / Automotive
Pressure tests are performed to demonstrate the safety and reliability of objects. These objects can range from single hoses to complete systems. Because of the versatility of the objects to be tested, pressure tests are carried across a variety of industries and applications. In the tests, a gas or liquid is used as a medium. EHL and Resato supply innovative test components and test systems to carry out pressure tests with different media safely, securely, and efficiently.
In pressure testing, the safety and integrity of components is tested. A gas or liquid is used to test the components. There are three types of tests: a leak test, a proof test and a burst test. A leak test indicates weaknesses in the product design and points out any cracks or holes. A proof test is used to determine the manufacturing or assembly quality and reliability of a product. A burst test shows the pressure at which a product fails.
Field pressure test systems
Testing is important when producing oil. By testing, you for example know that the oil is not contaminated. Our product range includes various well integrity test skids, pump skids and gas booster skids. These test systems are compact and easy to move. This way you can accurately test on a wide range of locations. Because of the different options we can offer a test system for almost every situation.
Resato-WIT Skid – Versatile, compact and self-supporting
The compact, self-supporting Resato Wit-Skid helps Wells Operating and Service Companies to perform well integrity testing and services on all high pressure wells and its components. The versatile unit is capable of pumping up to 15.000 psi, and has a maximum flow rate of 10 gpm and increases testing versatility with two 3 barrel water-based fluid tanks and a 1 barrel oil tank, and reduces hazardous risks and improves ergonomics with storage space for grease and sealant pumps, storage ladders, scaffolding, spare parts, and other tools.
With its relatively low weight, the Resato-Wit Skid can be easily lifted onto a platform with i.e. a well intervention-vessel. The unit has a small footprint and can be placed at a safe location to reach the wellheads and X-mas trees.
Resato-WIT Skid size: 62.5″ x 96″ x 96″ per module
Can pump up to 15.000 psi and a maximum flow rate of 10 gpm
Relatively low weight of ±2,500 kg per module
20m to 40m reeled, water-based fluid, hydraulic oil and air hoses
The heart of the unit
The Resato-WIT Skid is used in the energy industry for hydraulic pressure testing of tubular, annuli, valves, and wellhead equipment to equalize pressures, flush valves, pump chemicals, and more. It is also suitable for the supply of hydraulic power to operate cylinders, actuators, presses, rams, jacks, hydraulic bolting systems and air tools.
The heart of the unit are the Resato air-driven pumps with its unique design. It makes the pump reliable and very easy to maintain. One important advantage of the modern pump design is that the high-pressure seals can be replaced without disassembling the complete pump.
Portable high-pressure power pack- Type RPS
If you want to be flexible in your locations for testing objects, the RPS power pack is a suitable test system that provides pressures up to 4200 bar. Through its self-contained and portable design, the RPS is a convenient device that can be moved easily.
Its two versions create even more flexibility. Because the RPS can be equipped with a direct water feed connection (RPS-D), or an integrated reservoir (RPS-W) whereby you are more free in selecting the testing location and you are not depending on the availability of a nearby water tap.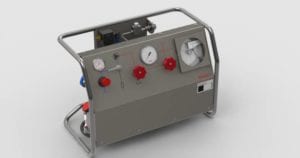 Portable and easy to move
Suitable for pressurizing oil, water or other fluids
Atex version available
Panel mounted operating features
Modular design
Besides the water feed options, the power pack test system offers different options to generate test results. With a mechanical pressure chart recorder or a PC data acquisition and recording system you can produce a chart that gives you a clear test certificate. In addition to its modular design, the RPS is standard available in 14 pressure ranges in different pump configurations. So, for many test circumstances EHL has an RPS that meets your requirements.
High flow high pressure pump – Type BMS
The BMS mobile pump system enables the testing of objects at different locations in a workshop or at field locations. The wheels or forklift pockets make the BMS much easier to move in comparison to standard workshop units.
This high flow / high pressure system enables adequate testing and adapts ideally to your specific requirements for testing large volumes of objects at high pressure. The BMS is generally equipped with two air driven pumps, thus accelerating your operational process.
To test objects even quicker, the standard high flow high pressure pump integrated into the BMS can be expanded with a high flow low pressure air driven pump.
Benefits of the BMS include:
Mobile pressure unit
Robust design
Suitable for pressurizing with oil, water or an emulsion of both
Modular design with numerous options
Practical usage
Like most Resato systems, the BMS works with pressurization, isolating pressure and bleeding. The standard pressure gauge allows the pressure readout on the test unit. With the optional pressure chart recorder, pressure outputs can be visualized. The archiving of test results is simplified with the optional computer recorder that is connected to the unit using a USB connection.
As a result, the pressurization process can be adapted to its preferred course. Once the desired output pressure is reached, the Resato air driven pump will automatically cease to increase pressure. This reduces energy consumption and reduces noise levels at the worksite.
Another benefit of this air driven pump is its ability to adjust the pressurizing process, both during the build-up and control phase.
Lightweight portable mini pump – Type MPS
The MPS is a handy portable air driven mini pump that can be easily carried, even on stairs, because of its weight (less than 17 kg with a filled tank) and size (405x308x365 mm). Although this mini pump is small in size and low in weight it is very suitable for the pressure testing of objects for pressure ranges up to 1800 bar at 7 bar air drive pressure and 2500 bar at 10 bar air drive pressure.
Through its pressure supply capacity, it is possible to manually drive the pump through a detachable hand lever if you are in a situation when air pressure is not available. The medium for pressurizing objects with this test system can be a fluid such as water or oil.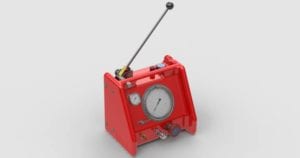 Lightweight, easy to carry
Suitable for pressurizing oil, water or other fluids
Completely closed frame
All operating features panel mounted
Functional design
The testing of objects with the MPS can be efficiently done, because all operating features are panel mounted. Another feature that makes the MPS a high functional pump is that all components, including the required connecting materials and tubing, are mounted in a solid plastic closed frame. This completely closed frame ensures that the pump can be used under more severe conditions, because the pump is not susceptible to for example dirt or water. Furthermore, all parts of the pump are made of non-corrosive materials, which give the pump and separate parts a longer lifetime.
Formation isolation valve charging system – Type FIV
The formation isolation valve (FIV) charging system has especially been designed by Resato to charge formation isolation valves. Through a fully computer automated operated system you are ensured of a reliable pressure build up and controlled bleed. Its full automation minimises operator error.
Furthermore, the design of the FIV is executed in such a way that it still can be operated if the nitrogen, air or power supply fails. Because it includes two nitrogen bottles and a battery pack to operate autonomously for at least one hour. The system is versatile in its medium for charging the valve because it can operate as well on nitrogen as compressed air.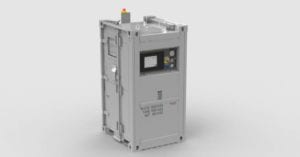 Touch screen operation
Fully automated system to minimise operator error
Automated bleed-down without human intervention
Large capacity air-driven gas booster
Plug and play package, including hoses, adapters, and power cable
Operation
A main asset of the FIV charging system is its integrated measuring system. Through which the FIV registers the pressure and the object temperature of the N2 valve. To be able to operate the FIV safely it is designed according to Atex certification standards and the data is saved on an USB memory stick that is also Atex certified (EX i).
Pressure test bays
Testing your objects in a special test bay is safer than using your workshop, during the production process. EHL and Resato can support you in setting up a test bay or we can set up our equipment in your own test bay. In addition, we can deliver fully equipped test containers. This way you can test your objects in a safe and flexible environment. Our test systems and bays can fully meet your requirements for dimensions, logistics and testing. Our experts can think along with you about the design of your test bay.
Containerized pressure test bay – Type PPU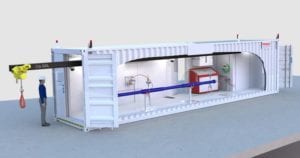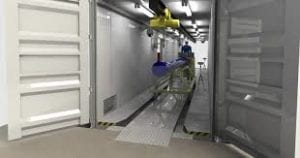 Pressure testing ability across different locations? Searching for a ready-to-go high pressure testing solution in your workshop? The Resato PPU containerized pressure test-bay will deliver you just that!
Unlike the adaptation of a regular shipping container for pressure testing purposes, Resato has containerized its pressure test-bay. Your solution is built from scratch for just one purpose: Testing your objects in a flexible and safe environment, whilst meeting the requirements and regulations of your company. Due to the flexible design of the PPU, we can easily incorporate your specific dimension, logistic, handling or testing requirements. From stacked container for high objects, open top, opening front and back doors to extendible overhead cranes.
Your goal: A test turnkey solution designed around the test unit with advantage to have optimum (testing) functionality and well-founded presentation of test results. Test certificate management wise and calibration wise.
The dedicated high-pressure test system allows both hydraulic function tests on tools and hydrostatic body tests; all operated and controlled from outside the pressure test bay to ensure maximum safety. The container is equipped with multiple safety devises such as automated door locks and sensors, emergency buttons and signal lighting to warn the surrounding area of potential danger in the inside the test-bay. Full controllable high-end pan-zoom-tilt HD camera setup allows inspecting the tested object from a safe distance.
Unique in its design is the test bay integrated grid floor, collecting and capturing the spilled test fluids. The different level of optional filtration system in combination with reservoir allows recycling of the test medium. This complete pump circulation system is able to handle a wide range of fluids.
When working in extreme conditions, the integrated air conditioning will keep workers happy and able to work in a concentrated and pleasant way.
The containers have CSC for top layer certification, giving you maximum flexibility in transporting the container to your preferred location worldwide.
The containers have been fully zinc coated and sprayed with a strong 2K coat of paint, making it ready for harsh environments.
Full computer-controlled tests with predefined test precipice will render human interface to a minimum, giving you maximum insurance in the field while lowering the educational need of the staff on site.
With the electricity adaptation packages these solutions can be used worldwide allowing an approach as an asset investment as well
Separated test control system – Type HPU-sep
A HPU separate (HPU-sep) can give you maximum safety during the process of testing objects. The HPU is a separated workshop test control system that is available in different configurations. Which gives you the opportunity to find the HPU system that fits your specific test requirements.
With the HPU-sep in combination with a Resato test system you can create a test bay setting. The high-pressure test system and the test object are positioned in the test bay and the HPU-sep control panel is placed in a separate control room. This results in a fully separated setup with no high-pressure components outside of the test bay, which offers you safe test circumstances.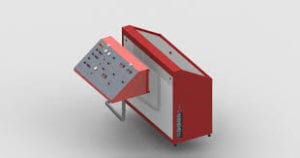 Fully separated setup
Engraved operating panel
Wall mounted operating panel
Suitable for pressurizing with water or mineral based hydraulic fluids (alternatives available on request)
Operation and safety
The HPU-sep has a wall mounted operating panel that gives the operator the chance to control the test system from sitting behind a desk setting instead of standing behind it. Furthermore, the HPU-sep has several additional features and options that support safe working conditions for your employees. One can install features like door safety switches, an emergency stop button and an unit mounted safety light that indicates pressure build up. It is possible to extend these standard safety measurements with options like extra flashing lights, camera systems, and a door locking actuator for even more safety.
Hose testing equipment
By testing hoses, you guarantee the safety of your employees, installation and the environment. Hoses can carry both gases and oil. Various test systems make it possible to test your hoses in a workshop and on location. Our mobile systems also give you the opportunity to be flexible in the layout of your workshop. All critical parts of our test systems are made of stainless steel. Our experts will help you to make the right choice for your hose test system.
Portable high pressure
Lightweight portable
High flow high pressure
Gas workshop pressure test systems
The type of test system may depend on the type of medium you are using. Our gas test systems test your objects under high pressure of a gas. The systems are specially designed for your workshop. The trade in (chemical) gases is complex and poses several challenges. That is why it is important that you have safe and reliable equipment at your disposal. Our gas test systems provide an accurate test report to show whether your objects meet these two aspects.
Gas workshop pressure test systems are used to test objects under the high pressure of gas. In the oil and gas industry nitrogen is often used. Using nitrogen, tests are carried out on BOPs, Christmas trees, and drilling equipment. EHL and Resato have systems for your workshop that automatically or manually test your objects. Please contact our experts to discuss which option is most suitable for you.
Gas high pressure workshop test system – Type HBU
For testing objects with gas pressure Resato has developed the HBU test system. The HBU is similar to the HPU. Only instead of testing with hydraulic pressure, the HBU tests objects with gas pressure. Like the HPU, the HBU has a solid workshop design that can be integrated in your production process. As a result, the HBU is benefitting the cycle times of your operation process.
For even more efficiency, the system can be equipped with an automatic operation system alternatively to manually operating the HBU. For an automated pressure cycle performance, one can install an optional process controller with touch panel.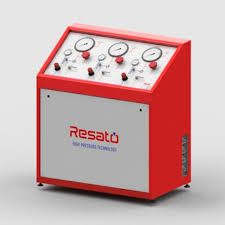 For hydraulic and gas pressurization
Suitable for various test mediums
Possible to integrate in your production process
Panel mounted features and gauges
Ergonomic and modular design
Besides efficiency benefits, the HBU contributes to a responsible working environment through its ergonomic operating panel with panel mounted features (e.g. a control bleed and gauges), and optionally with engraved and coloured flow chart and operating instructions. In combination with its modular design that is adaptable to your specific requirements, the HBU is a versatile system for testing objects. You can for instance include a combined system of air driven pumps and gas boosters, or if you prefer quick testing you can choose one of our double-acting, dual, or triple stage gas booster systems.
Workshop test cabinet – Type RTC
The RTC is the ideal solution for testing objects in your workshop both quickly and easily, while maintaining increased safety conditions. This single workshop test cabinet can be combined with an HPU high pressure unit to carry out complete pressure tests.
Combining these two systems offers the advantage of being able to, for instance, place the test cabinet in another room in your workshop while testing. As a result, the operator can control and monitor the test from a distance, which increases safety.
The cabinet itself is equipped with several safety features. The cover entirely consists of an impact resistant window that automatically locks when the unit is pressurized. An additional alarm light that clearly indicates the pressurization status of the system can also be installed.
Benefits of the RTC include: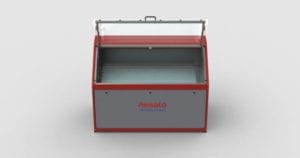 High pressure workshop test cabinet
Spacious test compartment
Compatible with the HPU and HBU pressure test systems
Quick and easy testing
In addition to offering several safety features, the RTC test cabinet also offers a quick and easy way of testing objects. Its spacious test compartment is made from stainless steel and enables the testing of coiled hoses.
This system can be equipped with a Resato high pressure pump, which automatically stops increasing the pressure when the configured pressure level is reached. Not only does this speed up your testing process, it also saves energy. These pumps already produce the lowest noise levels in the industry, while the fully enclosed test cabined further minimizes noise levels during operation.
Hydrostatic workshop pressure test systems
Unlike our gas test systems, hydrostatic systems test objects under high pressure from a liquid. In the oil and gas industry, water is often used to apply pressure to pipes, pressure vessels, BOPs and SCCVs during testing. The modular design of our hydrostatic test systems allows systems to be combined. As a result, EHL and Resato offer a reliable test system that streamlines your operational process.
Liquids such as water are often used in the oil and gas industry for testing. The availability and low cost of water make it a suitable test medium. Our hydrostatic test systems test your objects under high pressure of water and many other liquids. This way you can and will continue to guarantee the safety of your objects. The test systems are specially designed for your workshop. There is a wide variety of options available, so we can offer a test system for almost every situation. Discuss the options with our experts and find your desired system at EHL
HPU Series
The HPU-Series is a high-pressure pump system for workshop applications that require high pressures up to 5,000 bar / 72,000 psi. Its range of add-ons makes it a flexible system for pressurizing many fluids. The application areas span from pressure testing activities on valves, relief valves, safety valves, hoses, piping systems, well head components, hydroforming, and other high-pressure applications. The reliability of the high-pressure system is established using pumps from the Resato P-Series, valves and fittings, that are engineered to work together perfectly. A multi-pump setup can improve the pressure build-up and hydraulic control lines allows for operating of valves from distance. The HPU Series is designed to be tailored to your specific high-pressure applications and can be integrated into your processes with our team.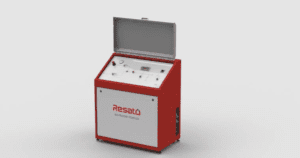 RTC 1500
The RTC 1500 is a robust pressure testing cabinet for hoses and large objects that is ideal for hose manufacturers and assemblers to perform hydrostatic pressure and cycle tests. To save time, the cover is pneumatically operated and to guarantee safety needs to be opened by a two-hand operation. With its spacious design, hoses can be loaded into the cabinet on pallets reducing loading time significantly. In combination with a hydraulic pressure testing cabinet (e.g. Resato HPU), the RTC 1500 becomes a reliable pressure testing system for hoses and large objects. The Resato HPUs are designed to deliver constant pressure to the hose testing system.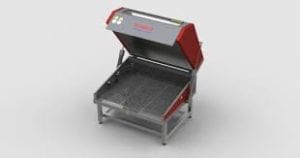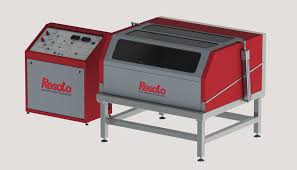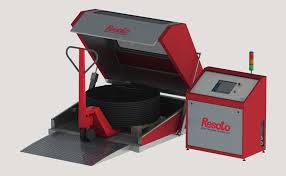 SLU
The SLU is an all-in-one hose testing system, especially designed for hose manufacturers and assemblers to carry out high pressure tests on hoses to prove quality and safety. To ensure safety during pressure testing, the SLU only allows for pressurization with a closed cover. Its spacious design and polycarbonate impact resistance window enable a clear and safe view of the test object during testing. To reduce operating time, a pressure pre-set allows for fast repeatable testing of a large number of hoses without changing settings.