17 Jan

Protecting your Hydraulic Systems

EHL Group will ensure your Hydraulic and Lubrication systems are protected from contaminants to ensure maximum performance and reliability.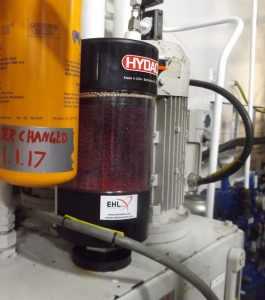 During a recent deployment during which the team was to undertake multiple Hydraulic overhauls, maintenance, and upgrades, EHL Group's Australian team noted that none of the multiple HPU's on the site had any form of contaminant protection on the breathers. The resultant degradation of the oils could have lead to potential performance drops, and even failure, not to mention shortening the life span of the fluids and components.
After presenting these facts to the client, EHL fitted over 15
 HYDAC BDE desiccant breather dryer filters to the systems to ensure that integrity was maintained even in the varying conditions that these units will find themselves during the year..
In hydraulic and lubrication systems, water ingress into the tank is a familiar problem. System operators are constantly faced with a high breakdown and maintenance costs that can be traced back to water in the system. This is because water, even in its dissolved state, causes accelerated degradation of the additive components by hydrolysis. These reactions cause the oil to lose its desired characteristics and to age more rapidly. The depletion of the additives also leads to increased oxidation in the base fluid. Water also has serious and adverse effects on the operating system components, damaging them by corrosion and hydrogen embrittlement.
Construction:
The distinctive feature of the breather dryers BDE is that it has two separate chambers which can be filled with two desiccants, which in combination increase total water retention (two-stage dewatering). As an option, and as a special protection of the desiccant, four valves are built into the bottom of the unit so that during system shutdown the desiccants will not become saturated. A check valve is available as an option to prevent exhaust air from the tank/ transmission from flowing back through the desiccant. This means the desiccant is protected from oil mist and there is no re-drying of the exiting air.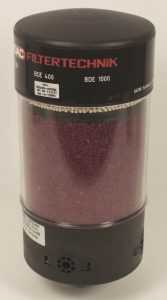 The built-in pleated air filter element (absolute filtration of particles > 2 µm) provides the filter with a very high contamination retention capacity (26g). In order to ensure reliable function, the entire cartridge must be replaced. When the filter is due to be changed, the colour changes from dark red to light orange.
Specifications:
Air flow up to 5,500 l/min
Fastening by means of flange, thread, or slip fit connection
Installation sizes: 200, 400, 1000
Two different desiccants used
For further information Contact: solutions@ehlsolutions.nz.w3pcloud.com
Website: www.ehlsolutions.com